In a surprising announcement, Bollywood actress Deepika Padukone has been invited to join the star-studded lineup of presenters at the upcoming Oscars 2023. She will be joining the likes of Dwayne Johnson, Emily Blunt, and Zoe Saldana as presenters at the prestigious event.
The news has been met with excitement and praise from fans and industry insiders alike, who have long admired Padukone's talent and charisma. As one of the most sought-after actresses in India, Padukone has made a name for herself not only in Bollywood but also in Hollywood with her work in films such as "xXx: Return of Xander Cage" and "Chhapaak."
Reacting to the news, Padukone's husband and fellow Bollywood star Ranveer Singh took to social media to express his pride and support for his wife. He shared a photo of Padukone alongside a caption that read, "Living legend! So proud of you my love!" Check her post and then her hubby's reaction along with others as under:
View this post on Instagram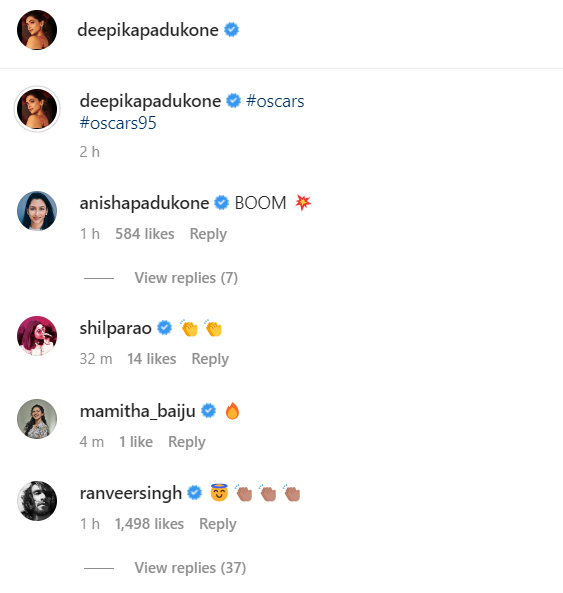 This announcement marks yet another milestone in Padukone's already impressive career, and it is sure to bring further attention to her work and achievements in the entertainment industry. As a presenter at the Oscars, Padukone will have the opportunity to showcase her talents and represent the Indian film industry on a global stage.
Furthermore, her participation in the event alongside such esteemed names as Johnson, Blunt, and Saldana further cements her status as a respected and admired figure in the entertainment world. It is yet to be seen what role she will play at the event, but fans are eagerly anticipating her appearance and hoping for a memorable moment.
Overall, Deepika Padukone's invitation to present at the Oscars 2023 is a testament to her talent and hard work, as well as a sign of the increasing global influence of Indian cinema. With her husband and fans cheering her on, Padukone is sure to make a lasting impression at the event and leave a mark on the entertainment world.
Follow us on Google News