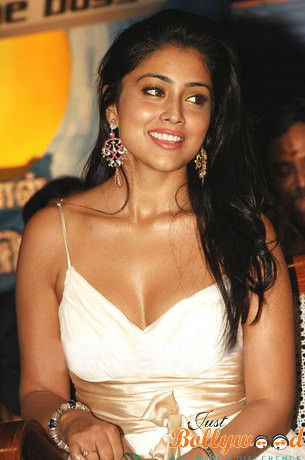 Shriya Saran Biography :
Born: 11 September 1982
Age : 36 years
Birthplace : Dehradun
Height: 1.64 m
Spouse: Andrei Koscheev (m. 2018)
Upcoming movie: Tadka
Shriya Saran is more known in the South Indian Film world than any other place. Shriya Saran is a competent model and actor who is often seen doing a number of movies including Tamil, Telugu, Malayalam, Kannada, English and Hindi movies. She was born in Dehradun but brought up in Haridwar. She always aspired to become a dancer and has been learning dance since her childhood. However, she got the chance to do a music album Thirakti Kyun Hawa, which made her popular in the B town, giving her break in Bollywood as well as in the south Indian movies. She comes from a non film background, as her father worked at BHEL in Haridwar, while her mother was chemistry teacher in DPS in Haridwar.
Wiki : Shriya Saran did her schooling from DPS Ranipur, while for her college she went to Delhi wherein she did her BA in literature. She is a competent doctor, who was trained by her mother and then she went to Rajasthani folk dance and got her training in Kathak from Shovana Narayan. As said, she started her career with a music album, which made her recognise in the film world especially in the south Indian film industry. Though she always wanted to become a dancer, however, she had to tread the road of films to establish herself as an actor who can dance as well. Her first movie was a Telugu film called Ishtam, while the first big hit was Santhosham of 2002.
This gave her more movies in the South India, which included all most all the south Indian languages movies. Her movie Sivaji was one of the highest grosser of 2007. Apart from working in the south Indian movies, she got the chance to work in Bollywood films as well, which she started with the one called Awarapan. In the year 2008, she also did her first English movie called The Other End Of The Line, which was an Indo American project by an NRI. In 2012, she was also on the lead cast of Salman Rushdie's novel based movie called Midnight Children directed by Deepa Mehta, which gave her global acclaim.
Apart from doing a number of South Indian and Main stream movies of B town, she is also involved in charity work. She is the brand ambassador of Naandi Foundation and for SACH as well, which is a group that works for kids affected by natural calamities. She is also involved in a number or NGO's working in India and abroad among the underprivileged and the poor. Some of her recent work include raising funds for various charitable organizations working for the empowerment of women. Besides, she is also known to deliver lectures in IIM and IIT and happens to be the only female actor to do so after Aamir Khan and Shah Rukh Khan.
Apart from acting, she is also involved in modelling, and has endorsed a number of products and brands. She has been the known model for Pond's Cream, she also did ads for Coca Cola, Fair and Lovely, Head Shoulders, etc. She is a brand ambassador of a popular store chain called Sarvana Stores, while is also associated with a US based biscuit brand called McVitie for which she is appointed as the promotional star along with Bipasha Basu. She is also the brand ambassador for Colgate along with KMF (Karanata Milk Federation). As far as awards are concerned, she is known to have won a number of national and south Indian awards for her acting and modelling.
Shriya Saran Filmography :
Year
Title
Role(s)
2001
Ishtam
Neha
2002
Santosham
Bhanu
2002
Chennakesava Reddy
Preethi
2002
Nuvve Nuvve
Anjali
2003
Tujhe Meri Kasam
Girija
2003
Neeku Nenu Naaku Nuvvu
Sitalakshmi
2003
Tagore
Devaki
2003
Ela Cheppanu
Priya
2003
Nee Manasu Naaku Telusu
Reshma
2003
Enakku 20 Unakku 18
Reshma
2004
Nenunnanu
Anu
2004
Thoda Tum Badlo Thoda Hum
Rani
2004
Arjun
Roopa
2004
Shukriya: Till Death Do Us Apart
Sanam K. Jindal
2005
Balu ABCDEFG
Anu
2005
Naa Alludu
Meghana
2005
Sada Mee Sevalo
Suryakantham
2005
Soggadu
Herself
2005
Subhash Chandra Bose
Svarajyam
2005
Mogudu Pellam O Dongodu
Satyabhama
2005
Mazhai
Shylaja
2005
Chatrapathi
Neelu
2005
Bhageeratha
Swathi
2005
Bommalata
Swathi
2006
Devadasu
2006
Game
2006
Boss, I Love You
Sanjana
2006
Thiruvilaiyaadal Aarambam
Priya
2007
Munna
2007
Arasu
Ankita
2007
Sivaji
Thamizhselvi
2007
Awarapan
Aliya
2007
Tulasi
2007
Azhagiya Tamil Magan
Abhinaya
2008
Indiralohathil Na Azhagappan
2008
Mission Istaanbul
Anjali Sagar
2008
The Other End of the Line
Priya Sethi
2009
Ek: The Power of One
Preet
2009
Thoranai
Indhu
2009
Pistha
Indhu
2009
Kanthaswamy
Subbulakshmi
2009
Cooking with Stella
Tannu
2010
Kutty
Geetha
2010
Jaggubhai
Monisha Jagannathan
2010
Na Ghar Ke Na Ghaat Ke
2010
Pokkiri Raja
Aswathy
2010
Don Seenu
Deepti
2010
Puli
2010
Uthamaputhiran
Kalpana
2010
Chikku Bukku
Anu
2011
Rowthiram
Priya
2011
Rajapattai
2012
Casanovva
Sameera Zacharia
2012
Gali Gali Mein Chor Hai
Nisha
2012
Nuvva Nena
Nandini
2012
Life is Beautiful
Paro
2012
Midnight's Children
Parvati
2013
Zila Ghaziabad
2013
Pavitra
Pavitra
2013
Chandra
Ammanmani Chandravathy
2014
Chandra
Ammanmani Chandravathy
2014
Manam
Rama Lakshmi, Anjali
2015
Gopala Gopala
Meenakshi
2015
Drishyam
Nandini Salgaonkar
2016
Oopiri
Priya
2016
Thozha
Priya
2017
Gautamiputra Satakarni
Vashishtha Devi
2017
Anbanavan Asaradhavan Adangadhavan
Selvi
2017
Nakshathram
Herself
2017
Paisa Vasool
Sarika
2018
Gayatri
Shaarada
2018
Phamous
Lalli
2018
Veera Bhoga Vasantha Rayalu
Neelima
TBA
Naragasooran dagger
TBA
TBA
Tadka dagger
TBA