Pakistani singer and actor Ali Zafar recently spoke out about Javed Akhtar's comments on the 2008 Mumbai attacks, also known as 26/11, during a press conference in Lahore. Akhtar, a renowned Indian lyricist and poet, had stirred controversy with his recent comments about the attacks, in which he had suggested that some members of the Pakistani intelligence agency were involved in the planning and execution of the attacks.
While commenting on social media platform – Instagram, Zafar was asked about his thoughts on Akhtar's comments. Zafar responded by saying that he believes in promoting peace and understanding between the two countries and that such statements only serve to further divide the people of India and Pakistan. You can check the same as under: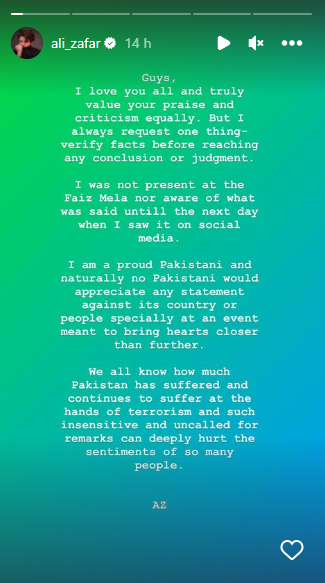 Zafar went on to say that he has always been a vocal proponent of peace and cooperation between the two nations, and that he believes that the arts can be a powerful tool in promoting understanding and empathy between people from different cultures and backgrounds.
Zafar's comments were widely praised by fans and fellow artists, many of whom see him as a leading voice for peace and understanding in the region. Zafar has long been a proponent of using music and art as a means of bringing people together and fostering greater understanding and cooperation between different communities. The singer has worked in B Town films like Mere Brother Ki Dulhan, Dear Zindagi and a few more.
Overall, Zafar's comments serve as a reminder of the importance of promoting peace and understanding between India and Pakistan, even in the face of political and social tensions. While the two countries may have a complicated history, artists like Zafar are working hard to bridge the divide and create a more harmonious future for all. Stay tuned to know more about the two only with us and if you have anything to share, do let us know by commenting below.
Follow us on Google News